Our History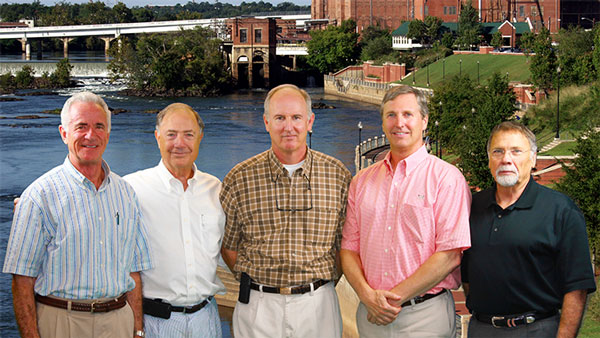 Coldwell Banker Kennon, Parker, Duncan & Davis Realtors® is the largest real estate company in the State of Georgia, outside of the Atlanta area. Our success rests on time-tested values of honesty, commitment to excellence, service to our customers and ability to attract and train quality Realtors® who are serious about their real estate careers.
Dan Parker Realtors®
Our roots go back to 1964 when Dan Parker Sr. opened a company bearing his name on Warm Springs Road. His son, Dan Parker Jr., joined the company in 1966 after his graduation from the University of Georgia with degrees in journalism and real estate.
Together father and son grew the company until Dan's father died an untimely death in 1970 at only 56 years old.
Under young Dan's leadership, the company quickly became a market leader in the area, continuing to attract and train top talent. The company has always been on the cutting edge of new developments and trends in the real estate industry.
Kennon Realty Services
In 1987, Dan concluded negotiations with longtime friend (and former real estate client) Kelsey Kennon, who had gone into real estate after a career in banking. Kennon Realty Services and Dan Parker Realtors® officially opened as Kennon & Parker Realtors® on July 1st of 1987.
They both sold their previous offices and purchased the former Georgia Company building at 5670 Whitesville Road, a 15,000 square foot building that serves even now as the company's headquarters.
The merger of the two companies immediately propelled Kennon & Parker into the Number One market position. Over two decades later, KPDD continues to be the distant market leader in the Columbus and Phenix City area.
Duncan & Key Realtors®
Doug Duncan and Jack Key III, both 17 years younger than Dan and Kelsey, grew up together, were college roommates at Auburn University and both are long-time friends of Dan and Kelsey.
In 1996 Duncan & Key Realtors® merged with Kennon & Parker to form Kennon, Parker, Duncan & Key Realtors®.
Coldwell Banker
Shortly after the merger, the partners purchased the rights to the area's Coldwell Banker Real Estate Franchise. Coldwell Banker is the premier real estate franchise in America with a history dating back more than 100 years. There are more than 3,900 Offices and 42,000 sales associates in the Coldwell Banker Network with more being added everyday.
Davis Realty Company
Steve Davis was licensed as a Realtor® in 1978. For 25 years, from 1986 through 2010, he owned Davis Realty Company, a full service company that handled residential, land , commercial, development, and rental property management.
In Jan of 2011, after many years of friendship and business relations with the Kelsey, Dan, Doug and Jack, Davis Realty Company was merged with Coldwell Banker Kennon, Parker, Duncan & Key and Steve became the 5th Partner/Owner of the company.
Today
Coldwell Banker Kennon, Parker, Duncan & Davis Realtors®, which remains independently owned by the four partners, for many years has been the Number One Coldwell Banker office in the 14 state Southern Region of the United States, which includes 800 offices. In the United States, KPDD ranks in the top 300 Real Estate companies, according to Real Trends annual survey. These rankings are based on total volume production.
The company continues to occupy the 15,000 square foot office located 5670 Whitesville Road, and has expanded to include a 17,000 square foot office located directly adjacent to the main location at 5650 Whitesville Road. These two buildings house our 200 plus licensed Real Estate Agents and support staff of 30. The company also occupies a 5000 square foot office in Phenix City, Alabama that houses 30 licensed Real Estate agents and services the East Alabama market.
KPDD's Property Management Department is housed in a 7,000 square foot facility located at 4621 River Road and handles more than 2,000 homes and apartments.
Also located at the River Road location is KPDD's Commercial Department, specializing in the sales and leasing of all types of income producing and investment real estate as well as full service commercial property management services. With 7 full time commercial agents, four of whom have had the distinction of receiving the CCIM designation.
Coldwell Banker Kennon, Parker, Duncan & Davis Realtors® is a full service Real Estate company operating in both East Alabama and West Georgia. Since opening the East Alabama branch in 2007, KPDD's Alabama agents, as is the case with KPDD's Georgia agents, are leading virtually every category of listings and sales in the Phenix City Multiple Listing Service.
KPDD has helped to relocate thousands of families to the Columbus, Georgia and Phenix City, Alabama Area, and also helped to relocate families all across the country. Our Relocation Department works closely with a number of third party home-buying companies in marketing their transferred corporate clients' homes. One of KPDD's specialties is in assisting military personnel and their families who are moving to and from Fort Benning, located just south of Columbus.
Coldwell Banker Kennon, Parker, Duncan & Davis Realtors® is principal broker for Cartus Mobility; a company which provides relocation services to dozens of the nation's top corporations and has the largest market share of any relocation company.
Superior training of sales associates has always been the hallmark of KPDD. Beginning with a pre-license program for those interested in a career in Real Estate. From the time that a new agent is licensed with KPDD, they are offered the most comprehensive training and continuing education available in the Real Estate profession. New agents have the option to be on a team or take advantage of our full-time Mentor Training program. KPDD's goal for new agents is to provide them with all of the skills, tools, coaching and business planning that they would need to quickly become successful in this extremely competitive profession.
Because of this competitive and comprehensive training, more than 50 percent of the Columbus Board of Realtors® Annual Circle of Excellence Award Winners are Coldwell Banker Kennon, Parker, Duncan & Davis Agents each and every year.
KPDD is committed to providing the public with the best trained Realtors®® who provide an exceptional buying or selling experience to our clients.